"All studies and no play make Jack a dull boy"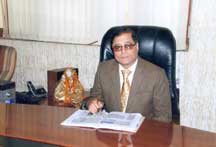 Let me express my special thanks to you for considering "Saai Memorial Girls School, Sai Bhawan" as the most suitable Institution for your child. The confidence you place in us, adds to the responsibilies we feel towards the students. We propose to make education a fun and exciting experience and also to ensure a professional environment in the school. The school provides a congenial environment for all round development of the personality and its integration with the society. We aim at organizing Human Development Programmes for teachers, parents and students. Main endeavor of the School is to make education a fun living process in which skill of life building are learnt and practiced. The School proposes to care for the all round growth of the child helping her God given abilities to blossom fully in an atmosphere of love and respect.
We warmly welcome all the students in this academic session of "Saai Memorial Girls School, Sai Bhawan". The Valuable suggestions from the parents leading for the upliftment of the school are heartily welcome.
Dr. Parkash Keswani(Chairman)
SAAI MEMORIAL GIRLS SCHOOL
GEETA COLONY
Delhi.