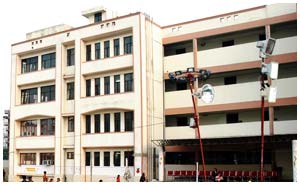 "Saai Memorial Girls School, Sai Bhawan" is the only School for girls in East Delhi run by "Sai Memorial Education Society" under the efficient guidance of renowned educationists, managing different Schools and Institutes in Delhi for the last 25 years. The Chance of serving the people of East Delhi by running an Educational Institution only for girls is a new venture. " Sai Memorial Education Society" the backbone of the School is comprised of a team of educationists working in the field for last two decades. All efforts have been made to bring about a balanced and harmonious development of the future citizen of country and inculcate in them a high sense of patriotism.
We aim to develop the school as community of faith where all respect one another as children of God. The students are taught to avoid every form of compromise with social injustice. The staff train the children by which they commit themselves towards building a more just society.
The main aim lies in the all round development of every child whether it is academic, sports, dramatics, cultural or social field of life. Students are taught to develop love for hard work, self-reliance, co-operation and honesty..
The School building comprises of well-maintained classrooms, activity room, library, laboratories and conference room. The playground in the lush green surroundings and at present accommodate games like badminton, basketball, athletics etc. The activity hall for the cultural activities and inter-school competitions is also available. The school is also equipped with medical facilities under the charge of a qualified doctor, with all first aid material.